Search for companies and individuals
CreditCheck contact hotline:




044 / 735 64 64




or send us an email to:


info.ch@bisnode.com
Negative turns in business relationships (e.g. late payments or default on receivables) neither happen accidentally nor are they fateful events. There are always unmistakable risk indicators. Those who know how to interpret these signs properly will always be on the safe side.
Risk assessment made simple
Risk assessment or credit ratings for companies are at the heart of the CreditCheck business reports (full reports and compact reports). The credit rating is a number determined using a statistical method that computes the risk of a company going bankrupt within the next 12 months based on modern scoring methods. A scale of AAA-C describes the bankruptcy risk as low through high. Ther credit score also measures the likelihood of bankruptcy over the next 12 months; however, it uses a more intricate scale of 1-100. In this case 1 indicates a high and 100 a low risk. We offer the perfect tool for every need. In Switzerland, it is also possible to obtain information on the creditworthiness of private individuals using the credit score method.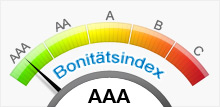 The basis for assessments
Our company assessments are based on the company data we have on hand as well as payment pattern information. Besides demographic data, we also utilize all available collection information, collection reports, etc. as part of the evaluation process. Another key criteria for the assessment of businesses is payment pattern information. Hardly any indicator is as meaningful as the latest billing information included in CreditCheck risk assessments.  
Ongoing reliability checks
It is our goal to ensure that with every decision you make, you can be confident that you are on solid ground. Don't ever depend on mere intuition, but rely on sound facts and well-founded risk assessments from CreditCheck. The combination of our quality checked data and your know-how and/or in-house information will safeguard your success. We consistently test our creditworthiness indicator for its reliability.